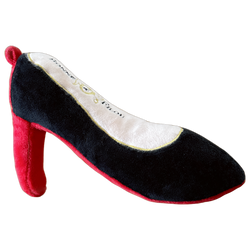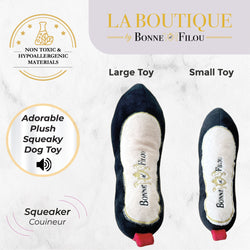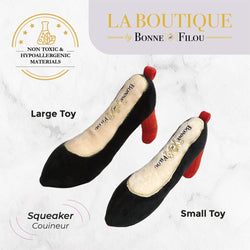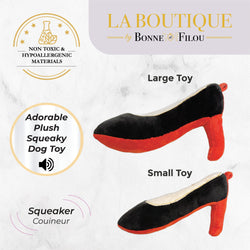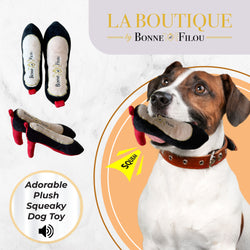 Bonne et Filou
Red Heel Squeaky Dog Shoe Toy
Show off your impeccable style with this designer shoe dog toy. A perfect gift for dog parents, providing hours of fun with a built-in squeaker!
When you really want to impress, every pup knows there's no better accessory than a plush luxury shoe squeaky toy. High fashion + high reward.
More luxurious than ever, Bonne et Filou offers our version of the crème de la crème of French footwear made especially for your best fur-friend. Now you can both flaunt your unmistakable great taste around town (or the living room)!
Fun and Adorable Design: Brilliantly designed and French-inspired red high heel shoe for dogs (that you won't mind them chewing on)! These toys are a must have for every fashion lover and are perfect for fetching, snuggling, and playing.
Ultra-Soft Recycled Material: Made from hypoallergenic and incredibly soft, high-quality recycled materials.
Tons of Fun: Each plush shoe contains a built-in squeaker protected by a layer of fabric to create endless hours of enjoyment!
Unique and Fun Gift: These adorable high heel pet toys are the perfect gift for any dog lover or dog birthday/puppy party.
Packaging is both in English and French.
Size:
Small: 8" x 5.5" x 4.5"
Large: 9.5" x 5.5" x 4.5"