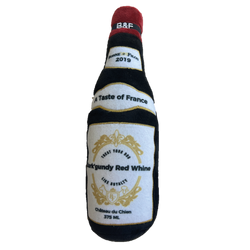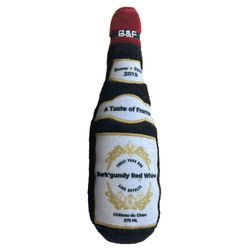 Bonne et Filou
Wine Bottle Squeaky Dog Plush Toy (Bark'gundy Red Whine)
Indulge your pup with the Bark'gundy Red Whine Toy, a unique, durable plush toy for dogs of all sizes. Cheers to endless fun and playtime! Shop now!
Bonne et Filou is now serving Red Whine all day! Open a bottle of Bark'gundy Red Whine from our exclusive collection – Santé (Cheers)!

- Fun and Adorable Design: Your dog has its own version of a Burgundy wine (in a pup-friendly style) so you can share a drink with your furry friend! Perfect for fetching, snuggling, and playing.

- Ultra Soft Recycled Material: Made from hypoallergenic and incredibly soft, high-quality recycled materials.

- Tons of Fun: Contains a built-in squeaker protected by a layer of fabric to create endless hours of enjoyment!

- Unique and Fun Gift: This wine bottle plush toy is the perfect gift for any dog lover or dog birthday/puppy party.

- Packaging is both in English and French.